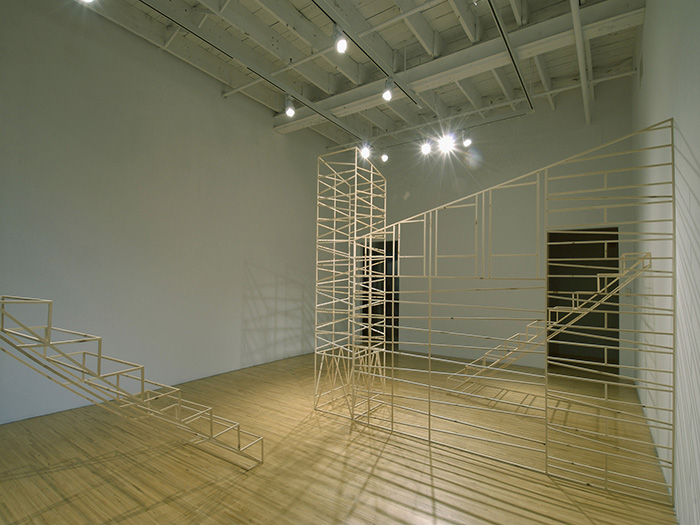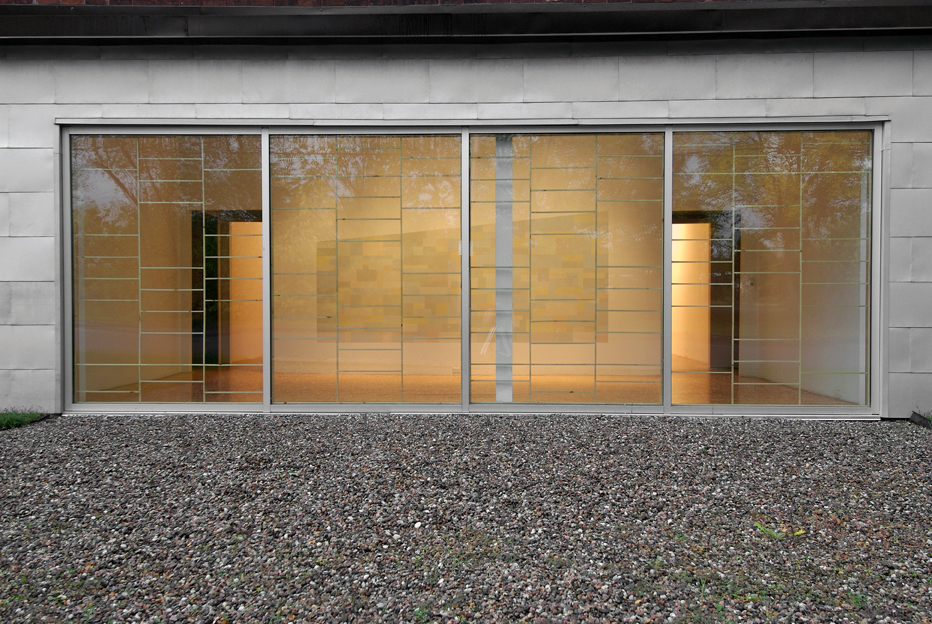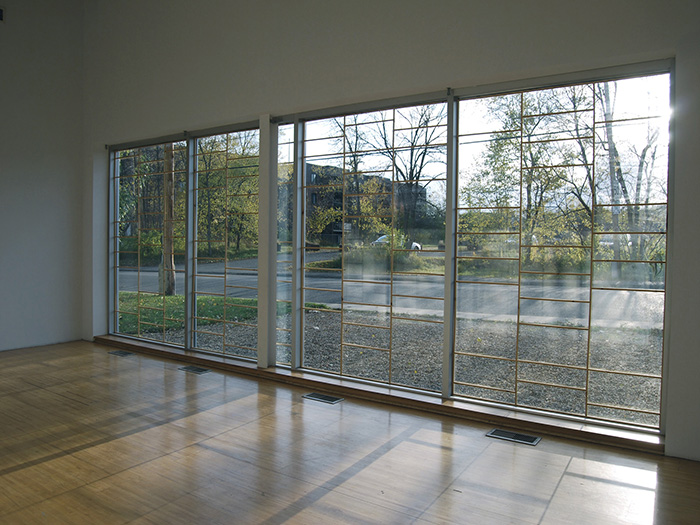 Dédoublement
Une exposition qui regroupe trois installations in situ qui traitent du langage de la grille et du motif en architecture et de ses effets sur notre perception de l'espace. Diverses combinaisons linéaires sont développées pour donner lieu à une typologie de la géométrie des surfaces et à une schématisation poétique de la notion de vide.

SALLE 1 (7 m x 8 m)
Deux escaliers se retrouvent de part et d'autre d'un mur comme deux miroirs, séparant ainsi la salle en deux sections symétriques pour créer un dessin de Rorschach pris en charge par la dimension architecturale.

SALLE 2 (8,5 m x 8 m)
Cette installation reprend un motif populaire qui trouve son origine dans les cubes décoratifs de béton. L'accumulation de près de 1000 cubes permet d'opérer un retour au mythe du labyrinthe dans ses rapports au jardin et à la déambulation comme dans ses métaphores avec les méandres du paysage virtuel.

SALLE 3 (6 m x 8,5 m)
Consciente de l'orientation du soleil, des grilles de bois ont été placées dans la fenêtre en parallèle avec un mur peint au latex pour proposer un jeu de combinaisons de grilles in situ qui passent de l'extérieur à l'intérieur, créant avec les ombres projetées de nouvelles possibilités dynamiques d'interaction entre la ligne, son ombre et le jeu de passage entre le jardin de gravier et son fractionnement dans une charte de couleurs.
Axenéo7 art contemporain, Gatineau (10 sept. - 26 octobre 2008)
Doubling
The grid is the subject of an exhibition motivated by the organization of space and the functions of its geometric language and influences on our perception of space.

ROOM1 (7 m x 8 m)
Two staircases become the mirrors of each other as a wall divides the schematic room symmetrically into a quasi-perfect manifestation of a Rorschach Test.

ROOM2 (8,5 m x 8 m)
This installation made from hundreds of cubes find its basic grid in the decorative concrete blocks. This accumulation operates out of the myth of the labyrinth, in its relation to the garden and its ccomplex perambulation, and within the meanders of our virtual landscape.

ROOM3 (6 m x 8,5 m)
Multiple grids made of different materials are created to interact with each other developing, from the exterior to the interior, a segmented space where a general chart of lines and colors overshadow the pebble garden situated outside the window.


Axenéo7 art contemporain, Gatineau (Québec), Canada (Sept.10 to Oct. 26, 2008)