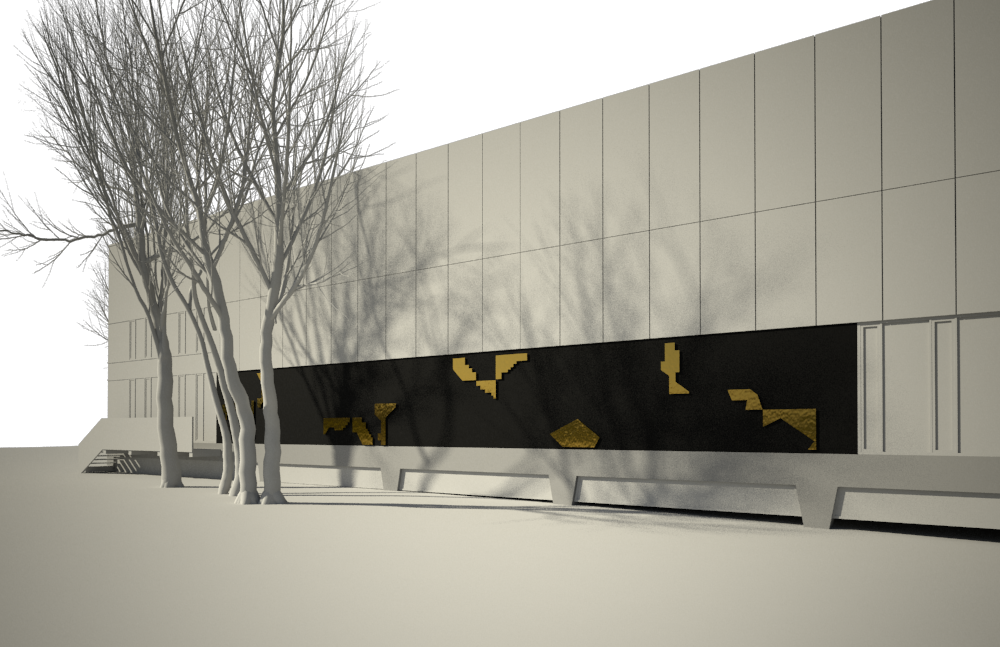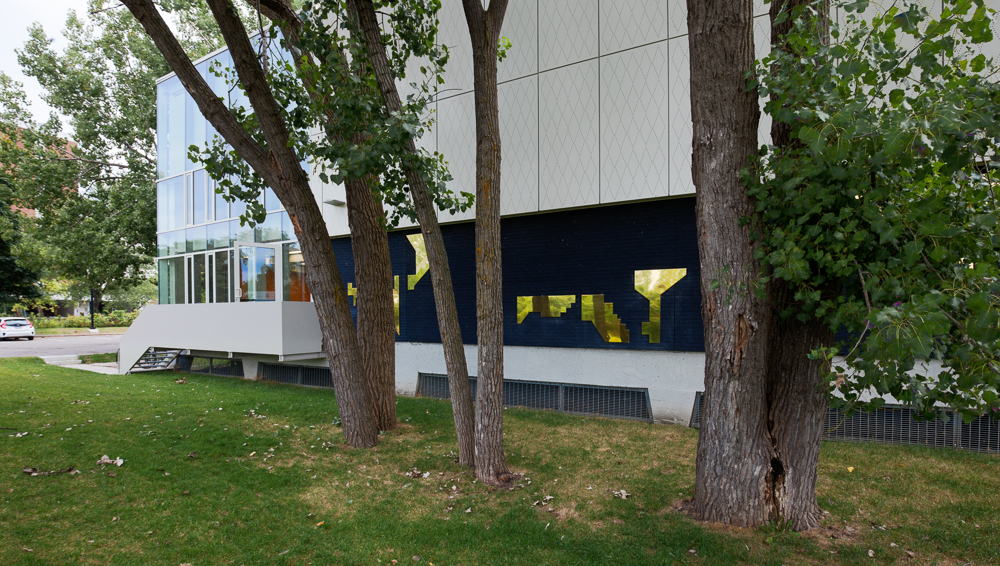 Chorégraphies cartographiques

Trois murs soulevant l'édifice font penser à un rideau de scène noir derrière lequel les coulisses s'activent des feux des projecteurs. Ces bandes noires présentent, en plans successifs, un motif géométrique qui réunit la sculpture au geste du ciseau pour construire un jeu de silhouettes à partir de l'architecture de Montréal. Avec ses ruelles, ses balcons et escaliers qui découpent le ciel en contre-jour, ceux-ci sont autant d'espaces négatifs morcelés à même de schématiser une cartographie aérienne et de réfléchir par le miroitement du laiton poli, l'environnement du fleuve St-Laurent situé à proximité. Au gré de l'oxydation du laiton, les rapports entre fond et formes vont se transformer pour créer une oeuvre aux couleurs plus profondes.

Fabrication F.O.L. Art public Inc. Jérôme Lapointe, Québec
Collection de la ville de Montréal 2017
Quai 5160, Maison de la culture de Verdun et École de cirque,
Les Architectes FABG, Éric Gauthier, architecte
70 mètres de longueur répartie sur 3 murs
50 plaques de laiton
5 mm d'épaisseur

Dancing Geometry (Spacing)
For this competition, a series of motifs based on the notion of "negative space" in architecture presents a mural divided on 3 distinct walls, 2 facing a parking and one along the park of Verdun on the St-Laurence River. Made of polished and engraved brass, these large plates develop a cartography that penetrates the building like architectonic silhouettes on a black curtain, playing with the reflections to include the changing surrounding weather into the design.
Collection of the City of Montréal 2017
Fabrication F.O.L. Art public Inc. Jérôme Lapointe, Québec
Quai 5160, Maison de la culture de Verdun et École de cirque
Architects FABG, Éric Gauthier, architecte, Montréal
Mural of 70 meters
50 plates of brass C 260
thickness 5 mm