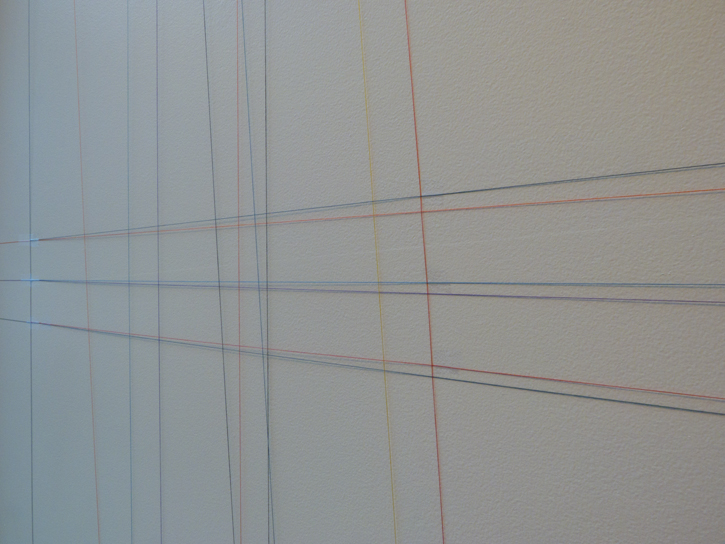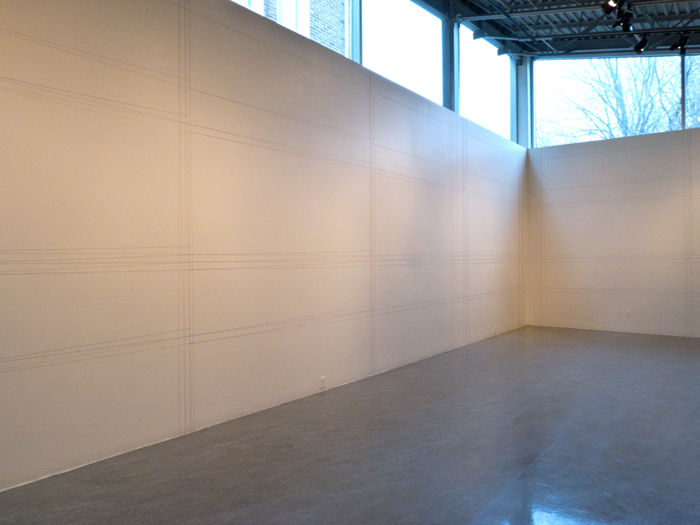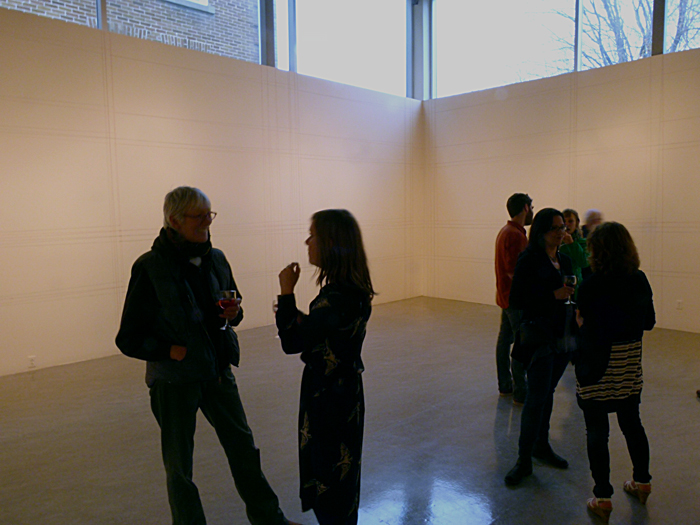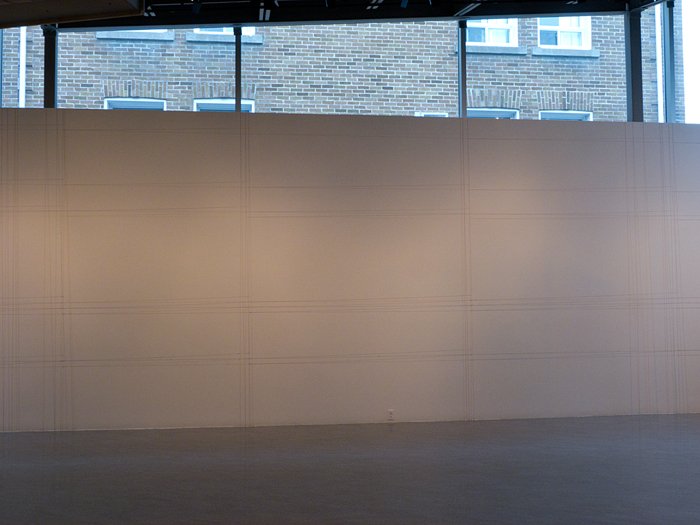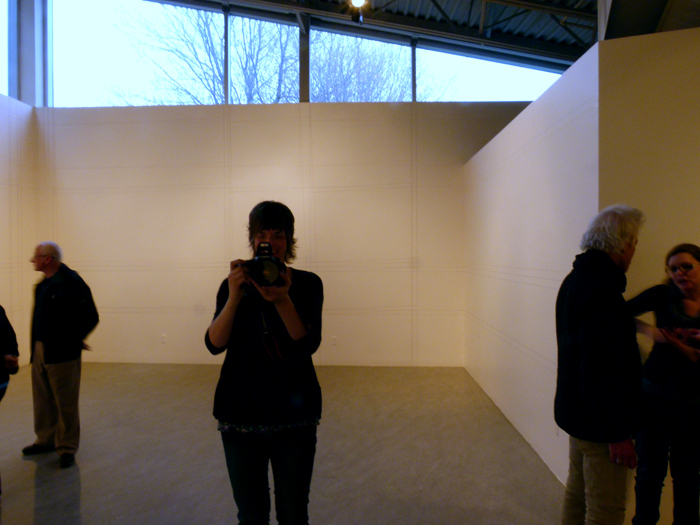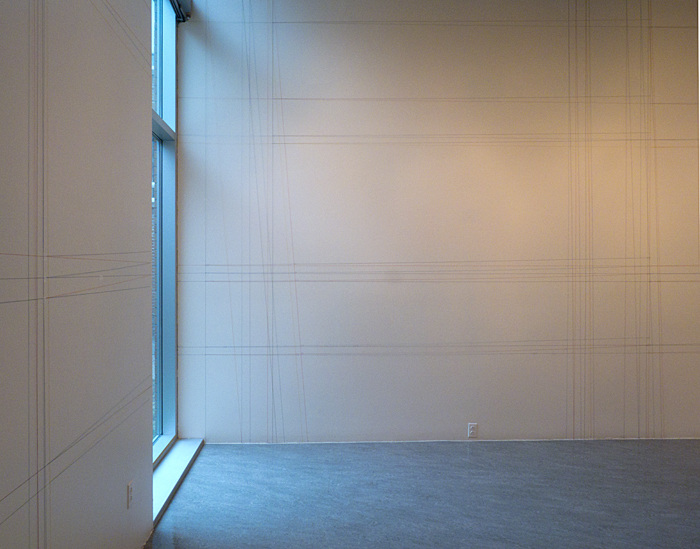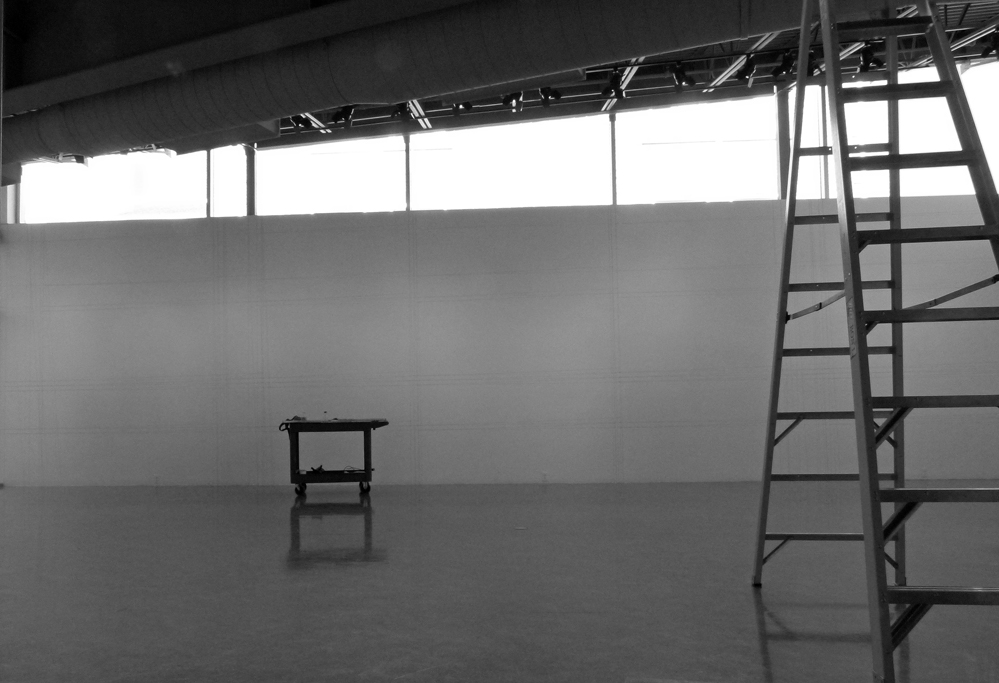 Lignes de fuite
Dessin réalisé in situ utilisant des fils de couleurs pour développer une grille géométrique déconstruisant le plan de l'architecture de la galerie. Il intègre l'espace de façon à déstabiliser le visiteur du fait de la quasi invisibilité des signes visuels présentés. L'espace entier est habité de traits fins qui semblent au premier abord inscrits directement sur les murs comme des marques de crayon alors qu'il s'agit de fils qui flottent légèrement en surface.
Le dessin entier couvre la pleine hauteur des murs d'un textile très ouvert qui n'est pas sans rappeler à une autre échelle les mailles des filets de pêche de la côte atlantique. Deux grilles de fils sont superposées l'une à l'autre; la première est parfaitement rectilinéaire et la seconde se superpose à la géométrie parfaite de manière à créer un effet de vibration sensible comme une onde qui traverse les mailles.
Centre Vaste et Vague, Carleton-sur-Mer, Gaspésie, printemps 2013
Bourse du Conseil des arts et des lettres du Québec
Entrevue télévisuelle avec Télé-Québec présentée sur vimeo.com/66961846
In situ drawing using fine strings of colors to develop a geometric grid which prolongs the architectural plan of the gallery space. Somehow, it destabilizes the visitor as the drawing is almost undistinguishable. At first, the lines appear to be directly drawn on the walls with pencils but only at a close distance can we see them floating on the surface.
The space becomes a spacious textile that creates analogies with the fishermen's net of the Atlantic coast town of Carleton-sur-Mer. Two grids are superimposed: the second crosses the first rectilinear grid to create a sensitive vibration effect like a wave passing through the mesh.
Centre Vaste et Vague, Carleton-sur-Mer, Spring 2013
Grant from the Conseil des arts et des lettres du Québec
vimeo.com/66961846