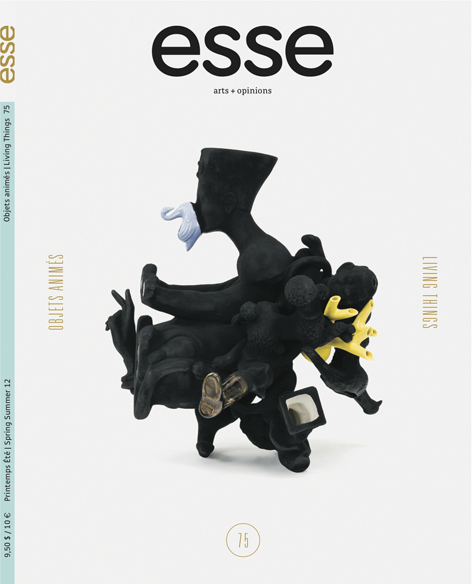 Esse art + opinions, No 75, 2012

Article de:
Emily Labarge est auteure et commissaire établie à Londres. Elle est titulaire d'une maîtrise (Magister Litterarum) en histoire de l'art moderne et contemporain de l'Université de Glasgow (2009). Elle termine présentement son doctorat au Royal College of Art en littérature critique en art et design. Elle a contribué à la galerie Ancient & Modern de Londres à titre de codirectrice. Elle est actuellement pigiste pour la revue Esse arts+opinons, elle enseigne au Royal College of Art, à l'Université Kingston et chez Christie's Education à Londres.
Article by:
Emily Labarge is a writer and curator based in London. She is currently a PhD student in Critical Writing in Art & Design at the Royal College of Art and received an MLitt in Modern and Contemporary Art History from the University of Glasgow (2009). She also worked as Associate Director at Ancient & Modern gallery, London. She contributes to Esse arts + opinions and teaches at the RCA, Kingston University and Christie's Education, London.