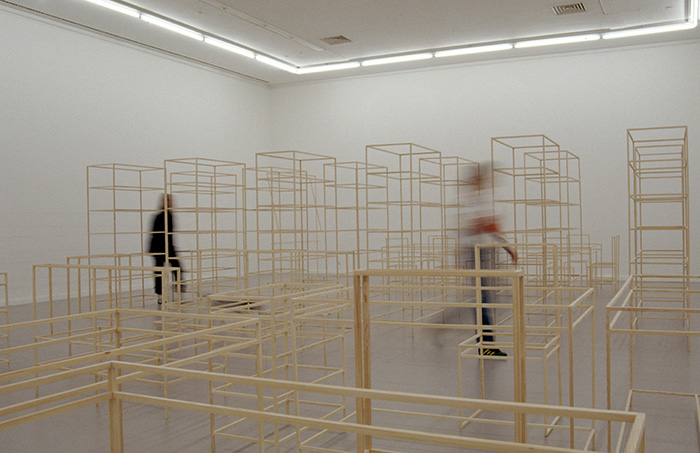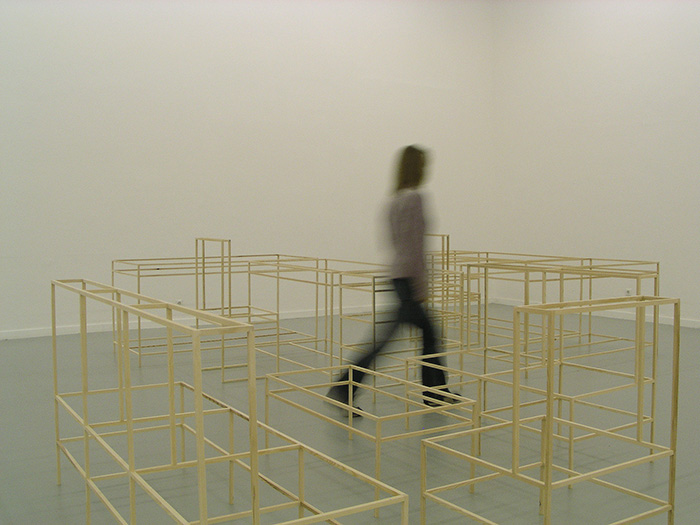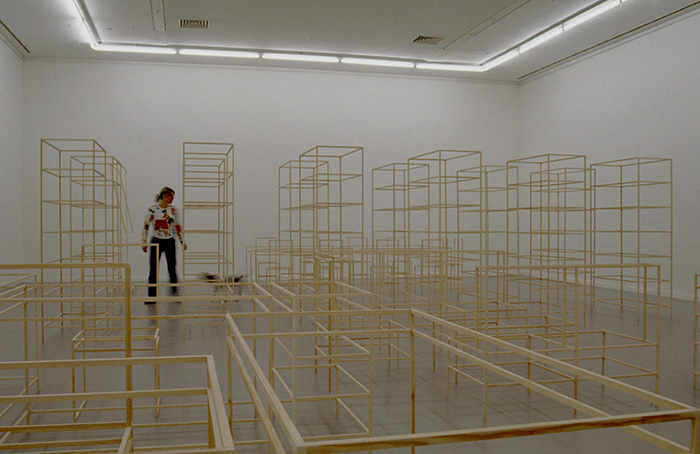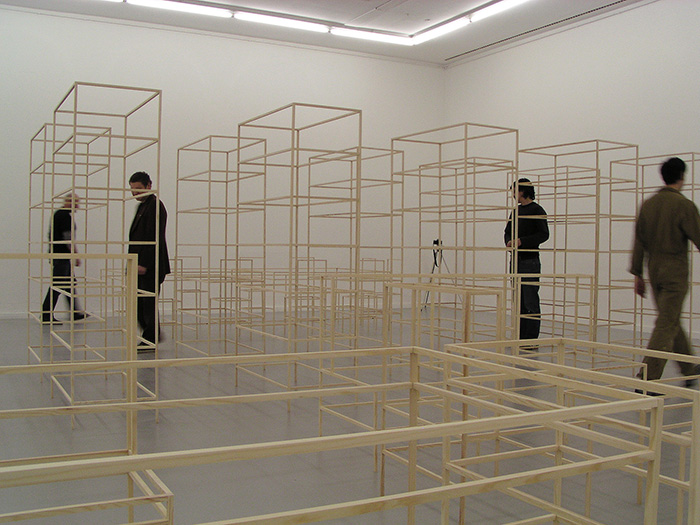 Espacement
Le spectateur peut déambuler à travers les pièces autonomes de mobilier dont l'ensemble constitue un environnement de travail typique avec une salle de réunion et un tableau noir; une salle d'attente avec fauteuils et table à café; des bibliothèques ainsi qu'une série de bureaux modulaires. Les structures des mobiliers sont réduites à leurs formes élémentaires et présentent un système linéaire léger ouvert sur l'expérience spatio-temporelle du visiteur.
Studio 2
Künstlerhaus Bethanien Berlin 2004-05
Studio du Québec à Berlin
Bourse du Conseil des arts et des lettres du Québec

165 mètres carré
45 pièces de mobilier
baguettes de pin de 15 mm

Espacement (Spacing)
In this installation, I have developed a series of sculptures based on the notion of "negative space" which can be looked at as a space absent of mass and gravity, a space more or less invisible. It mirrors the design standards of a generic public space which one could identify as a topography of office architecture, a model working environment derived from the modular uniformity of conventional furniture. Desks appear to await employees, as do the shelving units and filing cabinets, a conference table, and in the middle of the exhibition studio, a waiting area with seating possibilities. Made of fine sticks of pine wood, the impersonal social structure corresponds with the outline of the surfaces and volumes of furniture. The dematerialization here obtained becomes an instrument for transparency.
Studio 2
Künstlerhaus Bethanien Berlin, Internationales Atelier Programm
2004-05
Grant from the Conseil des arts et des lettres du Québec

165 square meters
45 pieces of furniture
15 mm pine wood